[국경없는 의사회][채용공고] 한국사무소 서동남아시아태평양지역 관련 정신과의 또는 심리상담전문가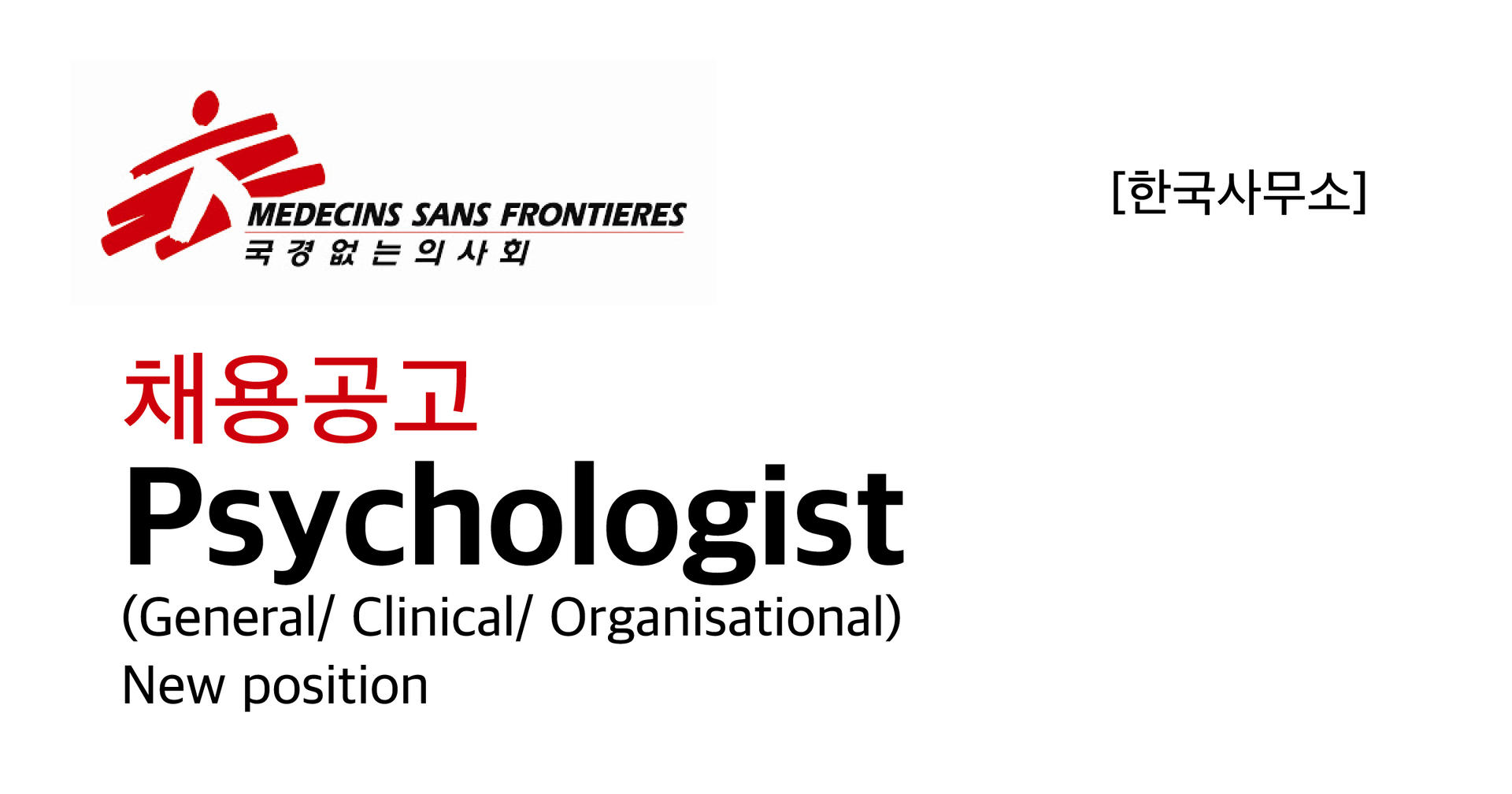 국경없는의사회 한국사무소에서 서동남아시아태평양지역 관련 정신과의 또는 심리상담전문가 구인
Department: Psychosocial Support Unit (PSU) South East, East Asia, Pacific (SEEAP)
Position: Psychologist (General/ Clinical/ Organisational) (New position)
Reports to: SEEAP PSU Coordinator (based in Australia)
Recruitment Periods: 2021.03.29 ~ 2021.04.14
E-mail: recruitment@seeap.msf.org
설명
---
Location: Any of the MSF SEEAP offices
Reporting to: SEEAP PSU Coordinator (based in Australia)
Technical lines: Respective PSU coordinators of Operational Centres, Medical Coordinators and Medical Cell during visits
Travel: International travel (regional)
Band/Grade: B2
Date: 14 April 2021
Duration: Fixed term contract 7 months (possibly renewable)
FT/PT: Part-time or full-time (to be agreed with the successful candidate)
---
Organisational Context
Médecins Sans Frontières, an international medical and humanitarian association founded in 1971, provides medical assistance to communities faced with crises endangering their survival. These crises typically take the form of armed conflict but also include epidemics, natural catastrophes and even exclusion from healthcare. Currently, MSF is present in 70 countries. MSF Operational Centres (OCs) deploy around 100 international field staff each year to 20 projects in the SEEAP region, in addition to employing over 1,500 national staff in the region.
Psychosocial Support in MSF
Acknowledging the risk of mental health impact associated with humanitarian relief work, MSF has established a network of Psychosocial Support Units (PSU) based at headquarters level, providing support to departing and returning field workers as well as support to the field and crisis intervention where needed. Recently, MSF has started decentralising this support service to improve proximity to field projects and accessibility by our national staff. Regional, decentralised psychosocial services, available to national and international staff, have been established for the Middle East, North Africa, and East and West Africa regions.
In November 2020, a Psychosocial Support Unit for MSF projects in South East, East Asia, Pacific (SEEAP) was established, currently based out of Sydney. The PSU currently operates in the form of a 12 months pilot project, that is due for evaluation in the 4th quarter of 2021 and then further decisions will be made regarding longer-term strategy for this PSU. The main aim of SEEAP PSU is to support MSF operations in the region through increasing access to quality localised mental health support for our staff. The SEEAP PSU is currently managed by the PSU Coordinator and supported through a technical Steering Committee.
Overall responsibility:
The SEEAP PSU Psychologist will lead the implementation of in-country pilot projects to establish or improve local psycho-social services for MSF national staff.
The role would ideally suit a psychologist with experience and a thorough understanding of MSF's field work as well as the complex modus operandi of MSF on an organisational level. It requires skills in diplomacy and negotiation, innovative thinking, cross-cultural understanding, and ability to work with tele-health tools. It further requires excellent teamwork capacity as well as the ability to work independently and in collaboration with overseas colleagues.
It is important to note that the focus of this project is mental health support for MSF staff only. It is explicitly out of the scope of this project to advise on regular MSF mental health activities with patients in the respective projects as this remains a responsibility of field operations.
Primary responsibilities:
Create local capacity networks:
Identification and mapping of local service providers and psycho-social support networks, exploring potential for partnerships and inter-agency collaboration
Selection and on-boarding of locally available MH support providers (external psychologist, other NGOs, etc) to support projects participating in the SEEAP PSU pilot project roll-out (e.g. Bangladesh, Philippines, Thailand, Malaysia, Myanmar)
Field visits and remote support to contribute to the creation of strong local networks and provide continuous oversight over their activity including monitoring, evaluation, and capacity building
Awareness raising and training:
Execute SEEAP PSU awareness raising strategy for MSF coordination teams and field staff
Increase knowledge on stress management, burnout prevention, and other relevant mental health topics through workshops (remotely and on site depending on feasibility) for MSF Coordinators, Activity Managers, and teams
PS support:
Provide psychological support at distance as requested by OC PSUs to national and international staff using telehealth tools
Carry out field visits (as soon as feasible) to increase awareness about the project; provide reports on the outcomes of the visits
Carry out field visits and/or provide telehealth psychological support in case of critical incidents in close collaboration with the SEEAP PSU Coordinator and under the responsibility of the respective OC's PSU
Reporting:
Report regularly to the SEEAP PSU Coordinator
Secondary responsibilities:
Liaise with field & cell HR and coordination on matters of staff health and wellbeing and duty of care requirements
Provide supervision/training to local service providers on request
---
Selection criteria
Professional background and experience
Essential:
Masters level degree in psychology and a minimum of 3 years of professional experience in psychology post-registration (Clinical/Organisational/General)
Experience in conducting workshops/seminars/group sessions
Experience in stress management and conflict management
Experience in working from the trauma-informed perspective
Cross-cultural working experience
Desirable:
MSF field experience
Knowledge of MSF's organisational functioning
Experience in providing mental health support remotely (video/phone/other)
Experience in providing group supervision
Core Competencies
Strong diplomacy, negotiation and listening skills
Advanced verbal and written communication skills in English required, skills in other regional languages are an asset
Strong networking and cross-cultural communication skills
Ability to work independently
Good research skills
Good project and time management skills
Ability to work under pressure
Commitment to MSF's social mission and values
Availability
Availability and willingness to regularly travel to the field when possible, for 2-3 weeks at a time
Availability and willingness to work outside of regular working hours if needed
In MSF Autralia, we believe the the following 5 values form the foundations of our culture – Transparency, Respect, Understanding of Diversity, Stepping In and CollaboraTion. At MSF Australia we value T.R.U.S.T as an essential element to how we operate and believe that these organisation values flow from this trust that we build.
Applications
Applications MUST address individual selection criteria. You should also write a cover letter indicating why you want to work for Médecins Sans Frontières Australia and attach a copy of your CV.
Please note that a criminal record check may be required as part of the selection process. Applicants with criminal records will not automatically be ineligible for the position they are applying for. Médecins Sans Frontières Australia has a Child Protection Policy in place and all employees are required to comply with this policy.
Médecins Sans Frontières Australia is committed to creating an inclusive workplace for all our staff. We believe that a diverse team helps us better serve those most in need, we encourage flexibility (in all it's forms) and we encourage people from a wide range of backgrounds to apply for this role, including Aboriginal and Torres Strait Islander peoples, people from culturally and linguistically diverse (CALD) backgrounds and people with disabilities. People with a disability can request support from our Domestic HR Department if you think you may require reasonable adjustment during the recruitment process.